Former NHL player Steve Montador was found dead in his home in Mississauga on Sunday, February 15, originally reported by TVA's Renaud Levoire. The sudden death of the 35-year-old has many wondering if the head trauma he suffered as a professional athlete contributed to his death.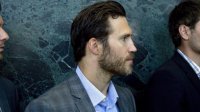 Montador received many concussions over his 10-year career as a defenseman with the NHL. Concussions and other sustained head trauma are known to lead to chronic traumatic encephalopathy, or CTE, a degenerative brain condition common in professional athletes that leads to memory loss, emotional problems, and death.
Other symptoms of CTE include depression and substance abuse, both of which Montador was said to have dealt with. Brother of the deceased, Chris Montador, said in an interview with the Calgary Sun, "He wasn't my brother. He was like a different person inside his body…He wanted to be the same guy, but he just couldn't."
Despite this, police do not suspect foul play and Montador's case is being investigated as a sudden death, and not a criminal case, as reported by The Missisaugua News.
Montador committed to donating his brain to research five years ago, to study the impact of repeated concussions on brain health. His brain will be sent to the Canadian Sports Concussion Project, according to a Calgary Sun report.
Of his decision to donate his brain, former Calgary Flames teammate Craig Conroy said, "That just tells you what kind of person he was. Obviously it's way too early, but if it helps someone else, that's what he was always about," according to Nugget.ca. Montador's donation will allow researchers to learn more about what may have caused his untimely passing and any possible connection with CTE.